My Ongoing Passion for Art Lends Itself to Creating Amazing Smiles for My Patients!
An Ongoing Passion for Art
---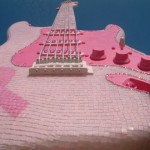 My interest in art has inspired me to design many interesting pieces. I've designed, decorated and sponsored this guitar named "Passionately Pink for a Cure" in honor of all those affected by cancer and in 2007 was selected to participate in GuitarMania®, a Greater Cleveland community public art project that has raised more than $1.5 million for its two benefiting charities: United Way of Greater Cleveland and the Rock and Roll Hall of Fame and Museum's education fund.
The project consists of large, oversized Fender Stratocaster guitars that are creatively transformed into works of art by local artists and national celebrities and displayed on the city streets of Cleveland for residents and visitors to enjoy. Corporations, organizations and individuals sponsor the guitars and select from a variety of local artists to paint, sculpt or decorate them. At the end of the display period, the guitars are auctioned off at a gala event. It took me three weeks of weekend and after-work labor to complete the project using paint, crystal rhinestones and pink glass mosaic squares.
In April 2012, my guitar "Destination: Cleveland" was chosen to benefit United Way and the Rock Hall. A giant guitar-shaped suitcase with various destinations of the city stamped on it- this project has to be one of my favorites- and coolest!
Work Boot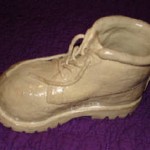 Made in ceramics class, here is another one of my creative pieces, a ceramic project titled "Work Boot."
David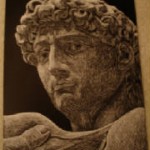 "David" is a sketch I made in a color and design class.
WKYC "American Health Front"
To make an appointment or schedule a free smile evaluation, call (330) 273-7300. We look forward to providing you with an amazing smile!